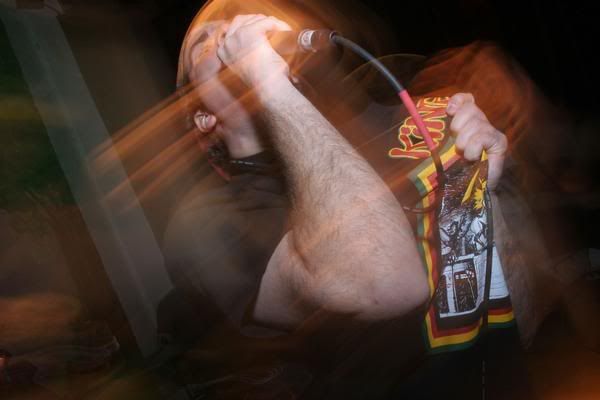 Photo by Brian Froustet
I came accross a Send Space for this album on Centerfuse a few hours ago, and after listening to it about 10 times. Which isn't hard since since the entire album clocks in at just about 9 minutes.
All 10 tracks on this album are straight up, fast and pissed off, hard rock 'n' roll. I'm never good at making comparisions but, i thought the vocals are definetly very Right Brigade-esque. Which is definetly a good thing. The guitar playing on Dirty Weeks is top notch, to go with the fast ripping riffs are some slow rockin solos, that leave you with nothing to do besides head bang. Tracks "Summer Classic", "Headaches", "Manic Times", and "Cheap Lingerie" are my favorites so far. Not knowing much about the band, I messaged Klint on Centerfuse and asked him to give me some insight on Crumbler....
And here is what he had to say....
"Basically, I (Klint) played bass, Donny & Jude from One Up played guitar, Jon Murphy from Doylestownish played drums, and Larry Epstein sang. We recorded this in March, and it was supposed to come out on Bottled Up Records. I went out to diner with Larry on Wednesday night, and we were talking. We never really play- I'm in Reign Supreme full time, Larry and Donny work fulltime, Jude is in grad school fulltime, and Jon is in some folk punk Against Me! sounding thing that he tours with on occassion. Jeff from Bottled Up is a good friend of ours, so if he put out our record, it would kind of be fucking him. He'd end up stuck with a box of shit he can't unload, kind of like the Efforts Made record he did. So anyway, Larry and I just decided that I'd post a sendspace of the record for anyone who saw us and enjoyed us, or wanted to hear it- because honestly, we all think it's a good record. It's definitely hardcore- but you can tell we were all listening to a lot of 90's Sub Pop kind of stuff. It's noisy and grungy, but not in an art school/hipster kind of way. It's still very punk/very hardcore. I'm really proud of it. As it stands, Larry might put the 7" out himself, press a few hundred, and then that'll be it. We still want to play, but shows aren't going to be often. And touring is definitely out of the question."
Take the time to download Crumbler's Dirty Weeks, you will not be dissapointed.
Here is the link,
http://www.sendspace.com/file/eeamug
The tracklist is:
1. Hooker Paradise
2. Manic Times
3. Summer Classic
4. Mattress
5. Stalk with an Agenda
6. Beaver Shots
7. Headaches
8. Sweetchuck's Bag of Sorrow
9. Seniors '76
10. Cheap Lingerie
Peace and Thanksgiving,
SG