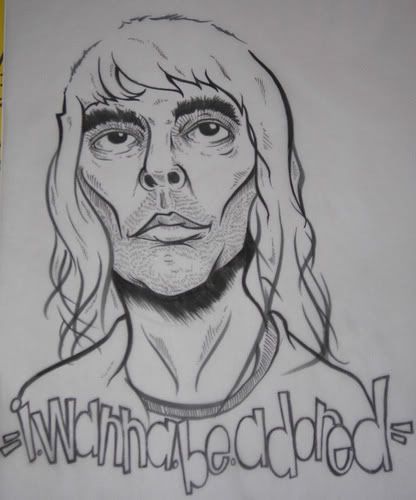 I got into the Stone Roses about 5 years ago. Since then they became one of my favorite bands ever. Ian Brown is a maniac, amazing lyricist, and super ill front man. Completely out of the blue, my Grandmom compared me to a stone rose a few weeks before she died. Actually a rose that grew from concrete which is pretty similar to a stone rose. Wouldn't ya say? Which led to me getting Stone Rose, tattooed on my wrist. In which people are constantly asking what "stone rose" means, so instead of explaining the real reason. I tell them its my favorite band.
The drawing of Ian Brown was originally done for a tshirt design that got thrown by the waist side. Maybe if I get enough people who want one I will print them. Let me know...
I'm current listening to the Stone Roses - Remix album, which is completely flawless. My favorite remix album ever. I'm not selling the Bloc Party remix jawn short, that one is quite perfect also. The DFA vs. Bloc Party track rips hard. While were on the remix album topic, where the hell is that Hail Social remix joint......I neeedd thatttttttttt!
PEACE & LOVE
SG